In Japan there is what is called 桜名所100選の地 Sakura Meisho Hyakusen-no-chi or the One Hundred Best Places for Sakura (cherry blossom) Viewing. If you're looking for the nicest places for appreciating the beautiful but short-lived cherry blossoms then you can't go wrong with this list.
One of them is Mitsuike-koen in Yokohama, literally "Three Ponds Park", with its three man-made ponds surrounded by about 1,600 cherry trees.
It's a public park that's filled daily with families, senior citizens, joggers/runners, dog-walkers, you name it. Thankfully, it's large enough so as not to feel crowded.
When Spring comes and the cherry trees start to bloom it becomes one of the favorite places in Yokohama for hanami or cherry blossom viewing.
There's a playground for the little ones, with slides and other implements for their entertainment. The adults prepare picnic lunches under the cherry trees: there are lots of places to spread your mat and sleep.
It's a wonderful place and time to relax and read a book!
When it's nice and sunny and there is only a gentle wind, the park is just perfect. Birds fly over the ponds. Sometimes there's someone practicing the flute, or the trumpet. They're often not bad at all. Hooray for free, live music!
Like every public park it encourages people to exercise by running or walking. There are convenient markers around the ponds to indicate how many meters you've covered if you walk according to plan. More serious runners will also enjoy the gently rolling slopes where they can climb and sweat it out.
When To Go
The cherry trees flower between the end of March to early April. Check out the official park page or the 100 Sakura Places page to get the latest info on the State of the Cherry Blossoms.
Clean public toilets as well as a drinking faucets for both humans and their pets can be found around the park.
When entering from the main gate you'll find lots of cherry trees. But be sure to walk all around the park: you'll be surprised at the number of places ready for a nice picnic.
Happy hanami!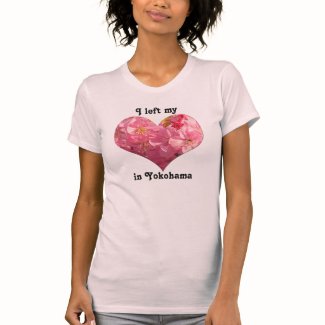 I Left My Heart in Yokohama Sakura Cherry Blossom Shirts
by
BeverlyClaireDesigns
Look at more I left my heart T-Shirts at
zazzle
How to Get There
The parking areas are small and very crowded during sakura season, so best to walk or use the bus.
JR「鶴見駅」西口より市営バス6系統、67系統、104系統の「梶山」行きまたは「新横浜」行きに乗車いただき、「三ツ池公園北門」を下車してください。徒歩約3分となります。
The nearest station is Tsurumi 鶴見 on the JR Keihin-Tohoku Line 京浜東北線. Head out the West Exit 西口 and take one of the following buses: Shi-ei bus 市営バス Nos. 6, 67 or 104 heading for Kajiyama 梶山 or Shin-Yokohama 新横浜. Get off at Mitsuike-koen Kita-mon (north gate) 三ツ池公園北門. It's a 3min walk from there.
I Would Love to Hear from You!
So, what do you think of this article? Please share your thoughts and opinions in the Comments section below.
ご意見をお聞かせください!
この記事についてのご意見・ご感想を是非、お聞かせください!コメント欄↓に書きこんで頂けると幸いです!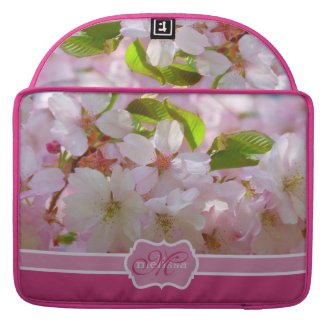 Monogram Pink Cherry Blossoms with Green Leaves MacBook Pro Sleeves
by
BCMonogramMe
Browse more Monogram MacBook Sleeves at
Zazzle
Related Articles
Night Sakura at Chidorigafuchi – the place to go at night.
Hanami at Sumida Park in Tokyo – Tokyo Sky Tree among the cherry blossoms.
Other Articles on BC Discoveries